A mobile home is defined as a house that was manufactured in a factory and then transported to the site of its destination in one or more sections.
Mobile homes are also known as mobile houses, prefabricated houses, or manufactured homes. These kinds of properties have been around for quite some time now, but they still carry various misconceptions which make people avoid them.
Some people think that these dwellings are not safe while others believe that they cannot be sold easily because there's no clear market value for them.
Please Check Out: Mobile Home Property Tax Calculator
What is Mobile Home Mortgage Calculator?
A mobile home mortgage calculator is a tool that allows you to determine your monthly payment on a loan for the purchase of a manufactured home.
A mobile home can only be financed with special financing options and most lenders do not offer these types of loans due to their unique structure.
So, If you are looking for a mobile home mortgage calculator, you have come to the right place!
Our team at Mobile Abode has created an easy-to-use tool that can help you calculate your monthly payment on a loan.
All you need to do is enter some simple information about your income, down payment amount and other expenses into our online calculator.
Once we know these pieces of data, we will provide you with an accurate estimate of how much it would cost each month to purchase your dream mobile house.
Mobile Home Loan Calculator
Do you own a mobile home? Do you want to buy one?
If so, you might be wondering if your mortgage can include your mobile home. The answer is yes, but some things should be considered before making this decision. 
Mobile homes have become increasingly popular over the years because they offer people an affordable option to live somewhere other than their parent's house.
Many people purchase these homes for vacations, second homes and retirement spots. So why not make them eligible for mortgages too?
However, it doesn't work out that way all of the time because banks don't typically get involved with financing mobile homes without land unless they are on leased land or owned by a community association (association financing).
Most mobile homes are financed through a personal property loan, and this is what we will focus on in the rest of our article.
Mobile Home Financing Calculator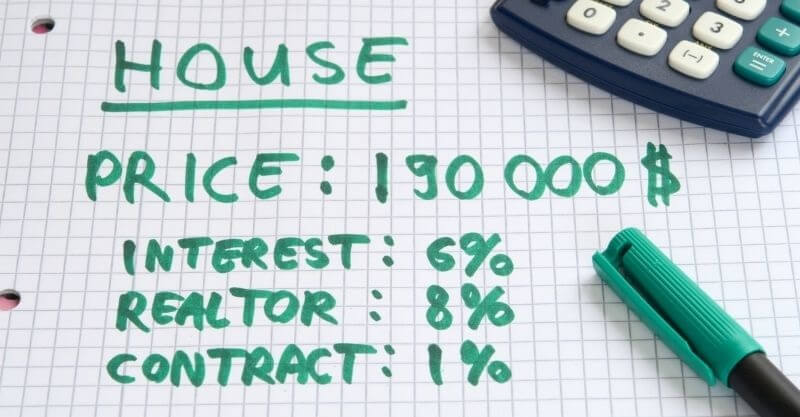 There are many options when it comes to financing a manufactured home including: purchase money loans, contract for deeds and lease/option agreements.
While purchase money loans and contracts for deeds can be used for land & home packages, they are not open to buyers of single-wide or double-wide homes that do not have land included in the purchase price.
And then there's the option of leasing your manufactured home along with an option to buy later – another popular method of buying these homes!
Of course, you could always opt to put nothing down and finance or pay cash for your manufactured home, but this will significantly increase the cost of the loan.
Click to Find Out: Mobile Home Skirting Calculator
No Down Payment Mobile Home Loans
Do you want to find out how much mobile homes you can afford? Our free affordability calculator below shows you what price range is right for you based on how much income and the debt you have. 
And as a bonus, it also creates a 3-year plan of saving enough money to buy your new Manufactured or Modular Home!
Using our No Down Payment Mortgage Calculator, we'll calculate the maximum price that you can afford for a manufactured home after paying closing costs and any other fees associated with purchasing a house.
It's not as simple as just inputting your monthly income into a box and receiving an answer. You'll first enter your monthly income, along with any debts that you currently have, and the calculator will take this information to create a 3-year plan of how much money can be saved for a down payment.
A mobile home is an entire house made in a factory and designed to be easily transported and placed on permanent foundations (sometimes located at another site).
Manufactured housing in the United States is governed by Title VI of the Civil Rights Act of 1968, which prevents discrimination in the financing, zoning, or access to public services based on race or ethnicity.
Local governments are required to give all interested people an equal opportunity to buy property.
A mobile home loan is a type of residential mortgage that covers both the cost of purchasing a manufactured house and its installation on land owned by the buyer.
The Federal Housing Administration (FHA) makes these direct loans available for those who qualify as long as they meet certain requirements regarding lot size—the FHA requires at least 16 feet from side to side for a double-wide and 100 feet from front-to-back for any home—and installation standards.
The requirement that manufactured homes be installed on land owned by the buyer is what distinguishes these loans from traditional site-built home mortgages.
Mobile Home Loans Requirements for Loan Approval
Different lenders have different requirements when it comes to granting mobile home loans.
You'll need to be sure you meet all of the following criteria to get approved:
1) You must have a steady job or income source with verifiable income.
2) Your credit score must be at least 600. If your score is lower than this, ask your lender if they can work with you to establish credit or improve your score before applying for a loan. Work on rebuilding your credit by paying down debt and avoiding new lines of credit.
3) Your total debt-to-income ratio must not exceed 45 per cent. For example, if after you pay your monthly housing costs and all other debts you have left, you bring in a total of $100 a month, the maximum amount that the lender will let you borrow is $4,500.
4) You must be able to make at least a 10 percent down payment on your manufactured home loan (5 percent for FHA loans). These are non-refundable deposits that can either be paid with cash or from money from an approved second mortgage lender.
5) You must ensure that your new mobile home purchase fits in with your local zoning ordinances and does not violate any "use" laws that regulate what kinds of structures can be built on a property.
6) You must have your home site approved by a lender or a designated inspector before the purchase and installation of the manufactured house. This means that you should have your property surveyed before going shopping for a mobile home loan so that you will know whether or not the area where you intend to put down your new manufactured home is large enough to hold it.
7) You must also either own or rent the land on which you're planning to place your newly purchased mobile home. If you plan to buy, build, or rent this space after making an application for financing, this requirement is waived.
If you meet all these, then congratulations! You are ready to secure a mobile home loan.
You can apply for the loan either at the bank or credit union where you have your savings account, or online through FHA approved lenders.
Are mortgage rates higher for mobile homes?
Manufactured homes are treated like real property for interest rates.
Mobile home loans carry just as much risk for lenders as conventional mortgages on single-family homes, although it is important to note that mobile homes depreciate rapidly due to their age and condition.
As a result, even if the value of your manufactured home is reduced by half, you will still owe what you owe on it.
Lenders tend to treat mobile homes more cautiously than they would site-built houses since they don't hold onto them for very long before selling them themselves or transferring them back to the factories where they were built.
This means that most banks don't offer specialized loan programs like those designed specifically for manufactured housing (although some do).
However, because mobile homes are considered real property, the interest rates on them are just as high as they are for conventionally built houses.
One of the few benefits of applying for a mortgage through a bank instead of an FHA approved lender is that you can often get one with lower credit requirements and without having to pay private mortgage insurance.
If your income wasn't enough to qualify you for a loan via conventional means at a regular bank, it may be possible through an online mobile home lender or aggregator.
They have expanded their services in recent years so that more people can purchase manufactured homes by making loans available to consumers with higher debt-to-income ratios than other lenders allow. 
This type of lending occurs outside the primary mortgage market, meaning they are often more expensive than conventional mortgages with identical interest rates.
Although they can help you to buy a mobile home without an FHA loan, these loans will likely carry higher debt-to-income ratios and require private mortgage insurance.  
What is the average mortgage rate for a mobile home?
While the average mortgage rate on a single-family home is 3.30 percent, the average mortgage rate on manufactured homes is 6.06 percent, nearly double the conventional loan.
This means that if you own a newly constructed mobile home worth $150,000 with 10 percent down ($15,000) and your interest rate is 6.06 percent, your monthly payment would be $821.38 per month for 30 years, according to NerdWallet's mortgage calculator.
If you were interested in getting an FHA loan instead of refinancing your manufactured home into another type of mortgage, then you could expect to pay an up-front premium which includes "mortgage insurance" (0.85% of the loan amount) and an annual premium of 0.80 percent on the total loan amount for the life of the loan, says LendingTree.com.
If you chose a 30-year fixed rate FHA insured mortgage with a 3.5% down payment, your monthly principal and interest payment would be $482.06 per month, according to HUD's website.
In this case, you end up spending about $340 more per month on your manufactured home loan compared to a traditional single-family home mortgage without paying any additional property taxes or insurance costs because that is included in the price of your mobile home or site-built house finance agreement instead.
How many years can you finance a mobile home?
The Federal Housing Administration (FHA) does not allow borrowers to finance a mobile home for more than two years, i.e., the length of the land lease agreement, which is why you don't see long-term mortgage loans available for financing manufactured homes. 
Short-term financing options are usually only available through online lenders that specialize in these types of loans or aggregators that offer cash out.
Typically, most bank mortgages are written for terms of 15 to 30 years. Instalment loans like mortgages and auto loans often come with streamlined terms lasting no longer than 12 months at a time so it can be easier to renegotiate for a better interest rate or cancel the contract entirely.
Can you get a conventional loan on a mobile home?
If you are considering getting a mobile home loan via conventional means, be aware that it is very unlikely due to the nature of these types of homes. 
Although you might get one if your income is high enough to qualify for regular financing without an FHA loan and assuming that your credit score is above 720.
Otherwise, you may need to get another type of house or resort to putting 20 percent down instead which can save you on monthly interest rates in the long run, says The Washington Post.  
Can you get a home equity loan on a mobile home?
Yes, you can get a home equity line of credit on a mobile or manufactured home.
According to LendingTree.com, you will most likely have to put down at least 20 per cent of the value of your mobile home to qualify for this type of loan since they are not considered collateral by financial institutions the way a site-built house would be under these conditions. 
In addition, if your mobile or manufactured home does not have enough space allotted for utilities and is located on leased property instead of owned land, then it may decide whether or not you qualify based on the local zoning code in addition to your income and credit score. 
Final Words:-
The mobile home mortgage calculator is a great tool for those who want to be able to calculate mobile home financing, loan and mortgage calculations. 
If you're considering purchasing a new or used mobile home but don't know what your monthly payments would look like, the mobile home mortgage calculator can help you find out! 
Using a mobile home mortgage calculator is the best way to make sure you know what you can afford.
There are many financial calculators out there, but we recommend using this mobile home financing calculator because it's free and easy to use!
Simply input how much down payment you want to put down, your desired monthly payment amount, and then hit "calculate." You'll be able to see exactly how much you can spend on a house with that information.
We hope this article has been helpful and we encourage you to contact us for more information about our mortgage calculators.