If you live in a mobile home, chances are you have noticed the pesky drafts that come through your walls.
To combat this problem, homeowners can use an insulation kit to seal any gaps under their trailer. This is easy to do and will help keep your family warm during those chilly winter months! 
In this blog post, I will be going over how to insulate your mobile home so that you can stay warmer in the winter and cooler in the summer without spending too much money. 
5 Steps to Insulate Under a Mobile Home
The insulation under your home is the key to keeping it warm and comfortable.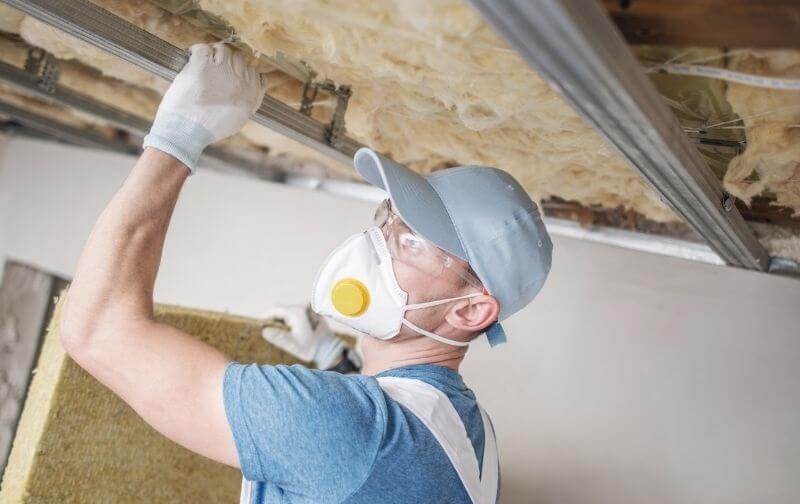 If you want to know how to insulate under a mobile home, here are some steps for doing just that!
First, you should check out the insulation kit from Insulate My Mobile Home. They have a great product called the 'underbody insulation kit' that will get the job done nicely.
Before beginning, gather your tools and supplies – wrenches, screwdriver, tape measure, etc. This will make things a lot easier! 
The first step is to crawl under your mobile home and remove any existing insulation material. Make sure that you double-check for power lines before doing this

– safety always comes first! 

After removing all of the old material from underneath your home, sweep out any debris remaining in the crawl space. You don't want dirt or rocks falling onto your face as you install the new insulation.
Finally, clean and dry the area and begin installing your underbody insulation kit. The best way to do this is to screw it in securely with screws provided in the kit.

*Tip: Be sure to wear protective glasses before beginning this process!*
Congratulations – You have now insulated your mobile home for added comfort and savings on energy bills!
Related Article: How To Heat Under A Mobile Home?
What insulation is used under mobile homes?
The standard insulation used under mobile homes is a fiberglass mix that can have anywhere from 2-3 insulating values.
In addition, the insulation may be wet or dry, depending on its intended use. It will either be rolled out with water already trapped inside of it or completely dry and fluffy.
This type of insulation is not fireproof nor does it protect against moisture damage typically found in a mobile home.
However, it still provides an effective barrier between your living quarters and the outside elements such as noise transfer and cold/hot air seeping in through open spaces between walls and windows/doors.
Can you use spray insulation under the mobile home?
Absolutely! However, you need to be sure that no electrical lines are running under your mobile home before starting this process. 
You also must take the necessary precautions to protect yourself from inhaling the insulation material (safety glasses & respirator).
There is a great spray foam kit called The Handi-Foam kit that makes the process simple. 
This kit will cover 100-120 square feet and can be used on both new and existing insulation, making it perfect for saving your money by doing it yourself or hiring a professional to do it for you.
How much does it cost to insulate under a mobile home?
The cost of insulating under a mobile home can vary greatly depending on the size of your home and its location. 
Typically, it will cost anywhere from $350 to $500 per use – so you may want to consider doing this with a friend or neighbor.
One of the most effective ways to save money when insulating is by buying an underbody insulation kit that has an insulation value of R-19. 
This product is very easy to install, inexpensive, simple to order online, and can be cut to fit your mobile home with no problem!
Also Read: Do I Need Vapor Barrier Under My Mobile Home?
How do I stop moisture under my mobile home?
The number one cause of moisture/mould under a mobile home is from water leaking in between the slabs. This can be caused by high clay soil, weather conditions, or even poor workmanship when the mobile home was installed.
Prevention is key! But if you already have this problem then consider using an exterior drainage system to re-route water flow under the mobile home so that it is away from the walls.
What are some alternatives for insulating an underbody?
You can use a variety of products for insulating your mobile home rather than the standard fiberglass insulation. These include solid polystyrene panels, spray foam insulation kits, and high-density foam insulation.
Each of these products will provide superior protection under your mobile home, so you can rest easy knowing that you are doing everything possible to protect yourself from the elements while staying within your budget.
Conclusion:
The more insulation under your mobile home, the warmer it will be. Consider using spray foam to get a good seal on all of those nooks and crannies.
Spray foam also provides an air barrier so that drafts are kept at bay during winter months when you need it most!
So you're thinking about insulating your mobile home? That's a pretty smart move.
We know that insulation is important for keeping the interior of your space comfortable and energy-efficient, but did you know it can also help to protect against moisture damage from below groundwater or flooding?