This is pretty much the most common question I get when it comes to mobile home skirting, so I wanted to answer this question once and for all!
Most likely the reason why you are looking into purchasing or having a professional install mobile home skirting is that your homes current exterior is in desperate need of some TLC.
Over time, most homes will fade, crack, chip and rust, but if they're especially bad you may not want to purchase them just because of what's on the surface.
How much does it cost to install a skirt on a mobile home?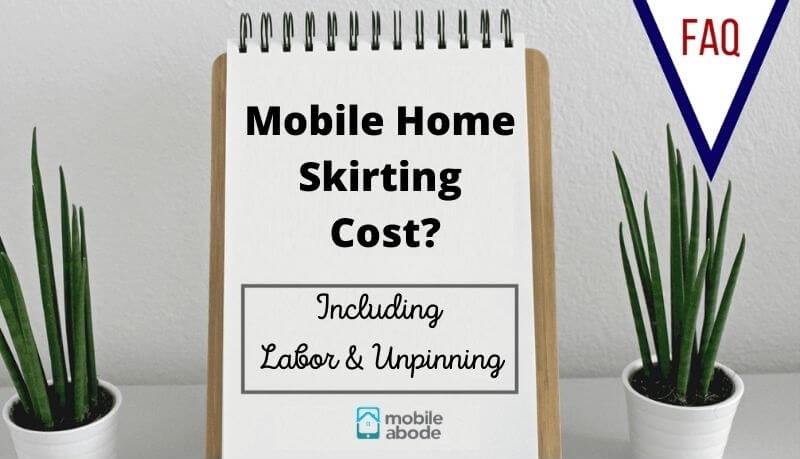 The good news is installing mobile home skirting can help cover up any damage done to your home exterior while simultaneously protecting it from future damage. Most average-sized mobile homes require about 500+ linear feet of skirting depending on the material you choose.
Let's break down this 500 linear feet into an average price range that will help to give us a better idea of how much mobile home skirting costs. Now keep in mind these are merely estimates, but I feel they're pretty close to accurate!
500ft x $1.25 = $625
The estimated total cost for mobile home skirting installation is usually about $625.
This pricing includes the material itself along with labour/installation fees. It shouldn't take more than 2-3 guys one full day to install your new skirting, so basically you can expect it done by the end of your workweek :).
The material itself that Skirted Outdoors uses has proven to be extremely durable over the years, so you won't have to worry about replacing it for quite some time!
Also Read: How Much Does It Cost To Level A Mobile Home?
How much does it cost to put underpinning under a mobile home?
If you're dealing with an extremely small mobile home then the quickest way to skirt it is by using underpinning.
In some cases, masonry companies have a special that will include the cost of underpinning and installation in one price. So keep that in mind when asking around!
But if masonry doesn't have any availability or their estimate isn't something you're interested in going with, then I would recommend calling a few different mobile home skirting contractors.
This way you can compare prices and get everything done under your budget.
How long does it take to put skirting on a mobile home?
Most mobile home skirting takes about 3-5 guys roughly one full day to install, but this can vary depending on the size of your mobile home and how trashed it currently looks.
Most contractors will charge by the linear foot for labour, so make sure you find out what they charge before hiring anyone!
On the other hand, if you need stuff like landscaping removed or more complicated underpinning then it can take more time depending on how much work needs to be done!
How many people do I need for mobile home skirting?
The number of people needed for installing your new skirting will depend on a few different factors:
Size of your mobile home
Hills/Slopes in the area
The amount of landscaping you need to work around during installation.
It's definitely best to hire at least 3-4 people for this type of job because it requires careful planning, precise measurements, and a number of different tools.
Making sure each person has their role to play will help with time management tremendously!
Which skirting is the cheapest?
Well, as mentioned before there are actually multiple options when it comes to mobile home skirting so finding the right one for your needs isn't all that difficult!
You can use wood, metal, rubber or any combination thereof. Each option has its own pros/cons so it's best to go over them with the contractor so you can figure out what works best for your needs!
Related Article: Mobile Home Skirting Ideas
How much does it cost to put skirting on a double-wide mobile home?
Well, this is going to depend largely on the type of material you want them to use. And if there are any hills/slopes in the area that need attention during installation.
The best option is metal because it's extremely durable compared to wood or rubber, but it can be costly in some cases! 
It's usually installed by sticking small pieces together then attaching them in-between your home and wheels with bolts. This ensures everything stays in its place when someone comes rushing down your driveway.
Wood is also an option, but I personally don't recommend it because it doesn't last nearly as long as the metal will even when treated with a special type of paint.
Rubber is the cheapest option, but it doesn't have great longevity either. Most rubber skirting comes in large sheets that are just folded over and stapled to your mobile home.
So while it's definitely not the most elegant/professional looking option, it could be the right one for you if you're on a budget!
How do you decide the size of your skirting?
You would want to measure down far enough so that it is aesthetically pleasing, but not too low where it gets in the way of anything.
If for example, you measured 2 feet from the base and bumpers on each side this should give you the height needed to make sure it fits correctly.
Topic for You: How Much Does It Cost To Rewire A Mobile Home?
Conclusion:
When it comes to mobile home skirting, you have a few options. You can install the skirt yourself or hire someone else to do it for you.
Depending on the type of skirting you're looking for, prices can range from $170 to more than $500. The cost of your mobile home's skirt might be a major factor in determining which style is best for how and where it will be used and what materials are desired.
For example, if you only need the cheapest possible option so that no one sees under your house when parked at an RV park or other place with tall grass surrounding it, then vinyl may suffice as it is cheap and easy to install.
However, if aesthetics matter – such as wanting aluminium because it looks nicer even though installation is more difficult – then this material could work out better financially over time despite costing more initially compared to vinyl.
The cost of hiring someone will vary depending on where they're located and what type of materials they use, but generally is between $200-$500 per day.
If you decide to take care of the installation yourself then must understand some helpful tips from our blog post regarding it.