The door of your mobile home is important for many reasons, but one of the most important things you need to know about it is how to measure.
The measurements are different depending on whether the door opens in or out, so make sure you take careful notes before taking any action.
One thing that makes measuring a bit easier is if you're using an old-fashioned tape measure.
This blog post is an introduction to the process of measuring a mobile home door. The measurements are important because they need to be accurate for the new doors to fit properly.
If you're looking for a way to measure your mobile home door, this article will teach you how. And it's easy and only takes a few minutes.
You'll find out what tools are needed and how to do it step by step.
Steps to Measure mobile home door
Here are a few steps that explain about How to measure the mobile home doors.
Measure the height and width of your mobile home door. The height is measured from top to bottom and width is measured side to side.
The most important thing is you must take accurate measurements in all three locations so that you can buy a new door that will fit properly and still allow for proper closing and locking of the door.
If your mobile home has windows above or below the front door, it's important to measure those windows as well.
After taking the necessary measurements, you're ready to start shopping! You'll likely find doors in about any style or colour that suits your taste and matches your décor.
And when it comes time for installation, make sure you get a professional installer who has full expertise in his work.
Steps to Measure mobile home front door size
Step 1: Access the top, bottom and sides of your existing mobile home front door.
Make sure the measurements are level (the same height from side to side), and that they've been taken in three different locations across the top, middle and bottom of your existing door.
Step 2: Draw an accurate scale drawing that shows every dimension you've measured (including approximate dimensions). If necessary, use a ruler and draw in straight lines.
Remember: Your new front door must be large enough for a person to walk through easily when opened; it should also be large enough so it can close tightly against its weather stripping without interference from the frame.
Step 3: When you're confident that your new front door size drawing is accurate, take it to the place where you've decided to buy your new mobile home door.
You can also use this information if you decide to get a contractor or carpenter to build your new door for you.
Step 4: Measure the width of the inside of your existing mobile home front door opening (usually around 36 inches).
If there's an overlap on either side when the door is closed, add about two inches per side so that when the new door is installed, it doesn't interfere with closing and locking.
This will help ensure that cold air doesn't enter your mobile home when the weather outside is extremely cold.
Step 5: When you know the width of your mobile home front door opening, check to see if there's any weather stripping near the bottom edge of your existing door.
If so, measure it carefully for accuracy so that you'll know exactly how much weather stripping will be needed when the new door is installed.
The type of weather stripping used varies by manufacturer and product line, so choose one that's appropriate for your mobile home model.
After careful measuring, purchase enough weather stripping for your replacement front door.
However, if no weather stripping was present on your old door, don't worry about buying it yet because this can be installed at a later date based on what type or brand is required for your particular mobile home.
Step 6: Look at the hinges on your existing door. They might be rusted and broken, or they might be in great shape. Use the old ones as a guide for hinge selection when purchasing new mobile home front doors.
Don't buy anything less than three-hole hinges because if two holes are used, the door will sag over time, making it difficult to open and close properly.
Step 7: Measure the width of your existing mobile home front door using the inside edge of the jamb (the vertical board that holds your door in place).
If you can't measure this accurately because there's so much space between the jamb and the backside of your existing door, simply look at how many hinges there are on your existing door and use that number to approximate how wide the door is must be.
After you know the estimated width of your future mobile home front door, check with various manufacturers or suppliers to see what type of wood they recommend for replacement doors.
Related Article: Are Mobile Home Door Locks Different?
FAQs about mobile home door sizes
What is the size of a mobile home door?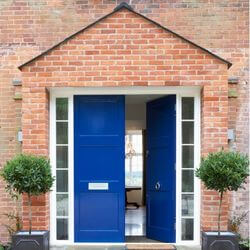 A standard size mobile home door is 8′-6″ high and four feet wide.
A two-panel door will have a frame that's just over three feet wide, which will accommodate a 2×4 or a 2×6 frame wall.
A single panel door will have a width of around 2'8″ inches to fit most manufactured homes, regardless of the walls. It's important to know the exact height and width measurements for your particular unit before purchasing something made out of solid woo.
In addition, if you want the interior of your mobile home to look as though it is part of an upscale building – rather than a low-cost prefabricated structure – buying custom doors can really make a difference.
Many manufacturers can build custom doors with "authentic" raised panels, inset panels, recessed panels and standard mouldings. You'll have plenty of choices, so take your time to find the perfect look for your mobile home.
And don't forget about the exterior of your mobile home's door! If you want a more stylish appearance with better insulation against the elements, consider adding an exterior storm door.
This will also provide additional security by allowing you to lock it when you're away from home or at night while sleeping peacefully in your mobile bedroom.
Plus, this type of mobile home front door is one-piece with no seams to allow cold air inside.
Choose high impact-resistant polycarbonate plastic or glass to prevent shattering if someone attempts to break in.
Most importantly, it will increase the energy efficiency of your existing door, keeping the cold air out of your living quarters during the winter months.
What size are mobile home interior doors?
Mobile home interior doors are typically about 2'8″ in width and 7′-9″ in height.
Measure the width of any existing door to get an idea of what you're working with, then compare it to your mobile home's overall dimensions.
Most manufacturers only make the standard size bedroom doors that measure 4′ high by 6′ wide, but custom doors can be made using different types of materials.
What are mobile home doors made of?
Mobile home doors are usually made of either wood or metal. Some are made of composite materials, but these are less common.
The type of door you choose will depend on your personal preferences and the climate in which you live. If you live in an area with extreme weather conditions, you may want to opt for a metal door because it will be more durable and better able to withstand the elements.
Wood doors are more popular among those who prefer a more traditional look for their homes. However, they can be susceptible to damage from insects and rot if they are not properly maintained.
Composite doors are becoming more popular because they offer the best of both worlds: the look of wood with the durability of metal.
No matter what type of door you choose, make sure it is properly insulated to keep your home nice and comfortable all year round.
Which is better for a mobile home door?
When looking for new mobile home front doors that are made of wood or aluminum, consider what's being used on surrounding homes that are built into permanent foundations by contractors.
If you live in an area where building codes state that wooden exterior doors must be protected with either metal bracing or at least two layers of exterior grade plywood, then using solid oak veneer doors may not be advised because they'll tear easily under pressure from intruders or high wind speeds.
Aluminium mobile home front doors can withstand high wind speeds, so they may be the best choice for mobile homes that are at risk of damage due to these types of conditions.
They're also good if you want a design that will last forever without having to paint it or stain it every few years.
Oak veneer doors are easy to care for and won't warp or splinter like wooden ones might. They tend to age well by simply adding new light fixtures on the outside instead of repainting them each year.
However, aluminium doors do offer better insulation than oak veneer doors. This means your mobile home's air conditioning and the heating system won't have to work as hard during extreme weather conditions.
What do I need to know about a mobile home door size?
It's important to measure the width of your existing door before replacing it because they're usually all similar in design, with just slight variations that could affect the fit.
What do I need to know when replacing a mobile home exterior door?
You'll find many options when looking for replacement exterior mobile home doors, such as:
Steel construction
Vinyl construction
Fiberglass construction
Solid wood or oak veneer core construction
Customized designs
For the best choice, consider your budget and whether or not you want to replace just the exterior door or both the exterior and interior doors.
Replacing both will allow you to seal any leaks around the door's edges and stop air from entering your home during cold months.
Replacing only the exterior doors means that you'll still have drafty gaps along the tops, bottoms and sides of your bedroom door.
Doors made from steel and vinyl offer increased strength and security against intruders. They're also weatherproof for superior sealing along all edges without any visible seams where cold air can enter your mobile home during cold months.
Can you put a standard door in a mobile home?
There's no standard size for mobile home doors, so it may be possible to fit a standard door in your mobile home depending on its width.
However, you may have to raise the threshold if it's made of metal or order an extra piece of trim.
You'll also have to make sure that your exterior height is at least 7 feet and 6 inches above ground level since the bottom of the door will need at least 4 inches below ground level and 2-3 inches on either side of its frame during installation.
Mobile homes are built with some variations from their original designs, so this information should only serve as a general guideline when you're considering replacing your bedroom doors.
It's important to measure both interior and exterior dimensions before purchasing with your local mobile home dealer.
When should you replace a mobile home door?
Torn or worn screens, deteriorated weather stripping around the doors, mismatched colours between new and old interior/exterior paint can all be signs that it's time to replace your mobile home bedroom doors.
You may not have considered replacing them right away if they still open and close properly, but these are also good reasons for replacement if they aren't airtight against the frame.
Related Article: How Much Wind Will Destroy A Mobile Home?
Conclusion:
There are a few ways you can measure your door.
The easiest way is to use the measurement from where the top of the threshold meets the flooring, straight back to where it meets with an interior wall or corner. This will give you both width and height measurements for your doorway.
Other methods include measuring from one side of the opening to another or using a tape measurer starting at one endpoint and then stepping off increments until you reach the other endpoint.
If that sounds like too much work, we recommend having a professional do this for you!